The highlight for me during my visit to The Museum of Transfiguration Monastery in Bukidnon was the different design of Liturgical Vestment made from indigenous materials found here in the Philippines. Vestments are liturgical garments and articles associated with the Christian religion. The designer of this masterpiece is no other then Dom Martin Gomez, who before entering the monastery was a well know Haute Couturer. Even though he left the limelight when he entered the monastery his passion for designing still burns in him. He started conducting research on indigenous materials by visiting places in the Philippines, tapping talents from the countries best weavers from several tribal groups to help him on his designs. I have the complete photos of the exhibit but I will only post some of his works because it will take time and space on my site.
Rose chasuble of piña-seda (pineapple-silk blend) has "calado" (drawn thread work) all over the surface with stylized petal designs embroidered all around the hem and on the stole. For third Sunday of Advent (Gaudete Sunday) and the fourth Sunday of Lent (Laetare Sunday).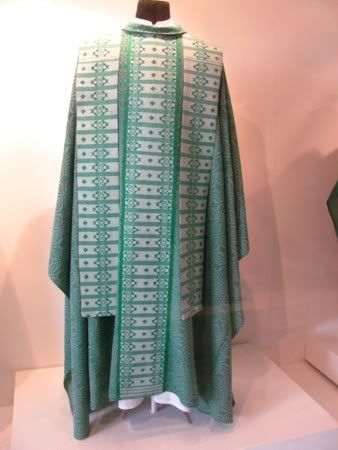 Green chasuble of cotton hand-woven in the Mountain Province in Northern Luzon. T'nalak material of abaca woven by the T'boli of South Cotabato is used for the stole. Green hand embroidery in weave stitch traces the T'nalak design.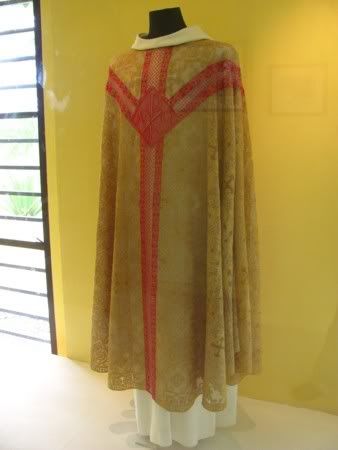 Yellow-gold humeral veil of hand woven abaca from Kalibo, aklan has geometric embroidery made in Lumban, Laguna.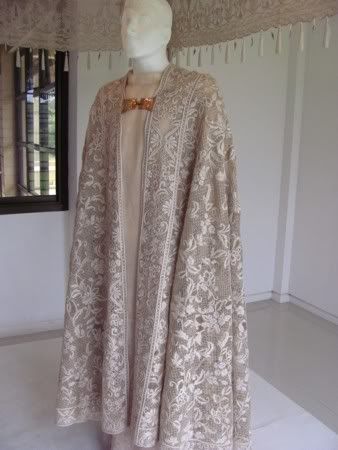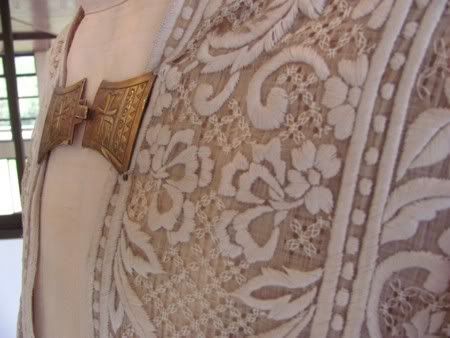 Ecru benediction cope of hand-woven abaca from Kalibo, Aklan is embroidered in satin stitch with the various flowers of the Philippines by the "bordadoras" of Cavite. The whole surface features drawn thread work done by the "bordadoras" of Lumban. Held in place by a gold plated morse, this cope may be used for benediction on the Solemnity of Mary, Mother of God (January 1).
Procession canopy made of hand woven abaca embroidered in "Langkit" patterns. An embroidered dove, the symbol of the holy spirit, is at the center. Shell beads and carved cenarion and mother of pearl shells in petal shapes hang like tassels all around the edges. Wooden poles are usually used to hold the canopy during processions.